"Compassionate, trained volunteers are the heart and soul of Inspiration Hospice."

Our volunteers offer terminally ill patients and their families comfort, support and companionship during a patient's most challenging days, weeks and months. Our volunteers report they are motivated by a desire to give something back, but soon find that the spiritual and emotional rewards they receive far outweigh the time and caring they contribute.
Who can be an Inspiration Hospice Volunteer?
Men, women and teens of all ages and backgrounds join the hospice team to offer services to patients in their homes or in nursing homes. Volunteers simply need a caring heart and a willingness to serve. Our extensive volunteer training program provides an awareness of patients' needs and prepares them to participate fully with the hospice team.

Volunteers are never asked to do something they are not comfortable doing. If the intensity of working with patients and loved ones is not the right fit, you can support our work in a host of other important ways: Even in our office!
Interested in becoming a volunteer?
Fill out both the Interview Questionnaire form and the Volunteer Application form below.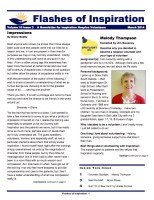 Read the latest and past editions of "Flashes of Inspiration" The Inspiration Hospice Newsletter.
April 2015
Feb 2015
What does a Volunteer Do?
Hospice volunteers can do just about anything!
Specially trained 11th hour volunteers spend time at the bedside while a patient is "actively dying," ensuring that no one dies alone.
Listening to a patient's concerns.
Being a comforting and supportive presence.
Hold a hand.
Bake a cake.
Listen to cherished memories.
Pat a shoulder. Give a hug.
Touch a heart.
Change a life (maybe your own).
Engaging in the patient's hobbies; for example, playing a board game or discussing current events.
Informing other hospice staff of the needs of the hospice patient and family.
Running errands or doing light housekeeping for the patient and family.
Encouraging the patient to tell her/his life story and recording it on cassette tapes provided for them.
Allowing time for the caregiver to take care of her/himself.
Providing bereavement support to families following patient's death. (Additional training provided.)